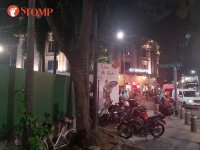 In recent times, with the influx of food and parcel delivery riders, there has been an increasing number of motorcycles and bikes that park on the pavement while going about their daily task.
Until recently, this has been widely accepted so long as the bikes are not in the way of pedestrians and do not cause too much of a nuisance. Based on what we see on our forums however, more and more of these parking offences are being ticketed by our law enforcement officers for "illegal parking" offences.

The case for motorcyclists in Singapore has not been helped recently with an article posted to Stomp, contributed by Stomper "Yap", stating that "If motorcycles can park illegally, then why cars cannot?"
While we think that we should be gracious to our fellow commuters and residents here in Singapore, and practicing give and take should be the Singaporean way, with more car owners sounding out about the illegal parking practices of us bikers, it will be sooner rather than later that the authorities start to take action.
What do you think? Should motorcycles be allowed to park at designated pavements areas so long as they vacate within a certain timing? Or should us a bikers look for proper parking lots just like the cars?
Let us know in the comments below!