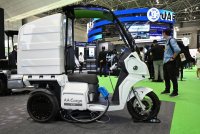 AIDEA's electric 3-wheeled motorcycle "AA Cargo" has received and completed its homologation to be used on Singapore's roads, and this is inline with the distributor's original target date of getting the AA Cargo on our roads by Q1 2021. While this is not the first EV motorcycle to grace our shores, it is definitely one of the first one that is heavily skewed towards cargo and food delivery riders. With a maximum payload of 120kg, it should be able to tackle most of the jobs required of delivery riders.

The introduction of Aidea's AA Cargo was created to meet the growing demand for delivery is considered to be a part of the company's activities to achieved a sustainable society, and it will play a role as an environmentally friendly and socially friendly mobile mode of transport.
The AA Cargo is available in 4KW model (available now) and a 8KW model that should be coming in the near future. You only need a Class 2B license to ride the 4KW model and with the theoretical horsepower rating of the 8KW model, it should also fall under the Class 2B licensing rules but we'll have to wait and see what LTA says.

Our good friend, Mr Zaihan from TNP, also known as bikerboy, recently wrote on the AA Cargo scooter as well as states that it will have a machine price of S$18,000, and assuming current COE prices of S$8,000, it would make the OTR pricing of the Aidea AA Cargo a whopping S$26,000 before insurance and road tax!
The 4KW variant that is currently available has a range of 160km and a top speed of 70km/h.
AIDEA is a new mobility brand from Japan that was born at the 2019 Tokyo Motor Show. AIDEA's mission is to solve environmental problems and contribute to society through next-generation ZEVs (Zero Emission Vehicles).

Many people will be convinced when they hear that its predecessor was the Italian motorcycle manufacturer ADIVA, which was founded in 1996. It's easy to see that the motorcycle inherits the unique style proven by ADIVA, with its retractable roof with wipers, rear box, and three-wheel system. In addition, AIDEA is characterized by the fact that it is fully electric and is produced under strict Japanese quality control.
Also, don't overlook the infusion of authentic Italian design that blends the storefront with the modern, including the appointment of Claudio Zancini as a product designer, who created the Bimota TESI H2, which made its shocking debut at last year's EICMA 2019.
More on the Aidea AA Cargo:
The company says that its unique body configuration, which includes a highly stable three-wheeled structure with a large all-weather screen and roof, a fully flat cargo bed that can accommodate a variety of boxes, independent left-right suspension rear suspension, and large 13-inch wheels, solves many of the problems associated with conventional business motorcycles.

It is equipped with a high-capacity lithium-ion battery of about 4kWh, which can be fully charged in 3 hours from a standard 200V power supply.
The biggest advantage of the AA Cargo, which is an EV, is that it emits no CO2 and is environmentally friendly. It does not emit exhaust gas like an engine motorcycle and is quiet, making it ideal for companies that handle food products, and should contribute to improving their brand image. In addition, the running costs, including electricity and maintenance, are less than half those of fuel-powered motorcycles, so a considerable cost reduction effect can be expected when considering large-scale operation over a long span of time.
Furthermore, as a unique mechanism, the reverse function is convenient for parking and maneuvering in narrow alleys. It is also noteworthy that the motorcycle is equipped with convenient mechanisms that take advantage of the advantages of three wheels, such as a "roll lock" to lock the motorcycle's left and right inclination and a "parking brake" to lock the motorcycle's front and rear movement.

According to Mr. Narita, marketing director at AIDEA, the current segregation is that the front two wheels are medium-sized motorcycles for leisure and the rear two wheels are small motorcycles for business. The reason for this is that the priority for leisure motorcycles is to avoid tipping over when the front tires lose grip or the steering wheel gets caught on a bump, while the priority for business motorcycles is to keep the load on the back of the motorcycle as stable as possible.
Distributed by: Aidea Singapore (Facebook: https://www.facebook.com/aideasg/)