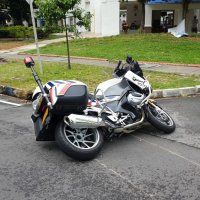 In case you missed the saga happening in Singapore last week, a video circulating on social media shows a Mitsubishi Lancer trying to run from chasing police officers on BMW R1250RT motorcycles. When the Lancer reversed along a one-way road, it collided with SSSgt Haidil knocking him over. Fortunately, the traffic police was not seriously injured and the driver of the car was apprehended eventually.
Join SingaporeBikes on Telegram for the the latest news, special offers, reviews of motorcycles, and more!

Video of the incident here:
We now have an update from our Minister on the incident and we are glad to know that the officer involved is not seriously injured and recovering well.
The BMW R1250RT also does not look to be too badly damaged and should be back on the roads soon. 
From Minister Assoc Prof Muhammad Faishal Ibrahim:
Spoke to Senior Staff Sergeant (SSSgt) Haidil Bin Osman, the Traffic Police officer (TPO) who was hit by the reversing car in today's saga that unfolded along Geylang East Ave 1, and which was widely reported on social media.  I am glad that SSSgt Haidil did not suffer any serious injuries, and that he is alright.  I spoke to him earlier today and wished him a speedy recovery.

SSSgt Haidil was injured in the line of duty when he tried to stop the offender along Upper Paya Lebar Road earlier today for a spot check. The offender refused to stop, and this led to a pursuit, which ended with the offender reversing his vehicle into SSSgt Haidil while he was still on his motorbike, in an attempt to escape.  I am happy to learn that the offender has since been arrested.
Every day, Traffic Police officers maintain law and order and enforce road traffic laws on the roads.  Their job is risky as danger lurks on every street as they are unable to read the intentions of a motorists until its too late.  They are vulnerable as their motorbikes provide little protection, and they have to depend very much on their training, experience and instincts to get out of trouble and harms way.

This is not the first time our dedicated Traffic Police officers are injured during the course of their work.  They take the risk of their work in their stride, and continue to patrol our roads to keep our roads safe. Their professionalism and dedication to work is truly admirable. I am appreciative of what they do, and proud of their hard work in keeping Singapore's roads safe.
Let's continue to do our part to make our roads safer for everyone.
Join SingaporeBikes on Telegram for the the latest news, special offers, reviews of motorcycles, and more!