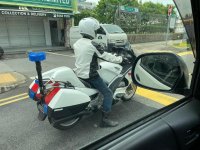 It doesn't seem to be very long before there comes a complain or comment from the public to one of the news portals in Singapore like Stomp, Mothership, or even MyCarForum that someone spotted a TP lookalike or wannabe on the roads and writes in to ask if this is all legal.

Well, according to the Singapore Police Force's website:
Quote

The offence of personating a public servant carries an imprisonment term which may extend to 2 years, or with fine, or with both.  The offence of theft carries an imprisonment term which may extend to 3 years, or with fine, or with both.
While this mainly applies to people who actually impersonate a police office in person, this law might very well be able to reach vehicles, as the case in point here is.
We've not heard of anyone in Singapore who has been charged with having a vehicle (car or motorcycle) that is too similar to the ones that our police uses, but it certainly is a grey area.

We reckon if you stay within LTA regulations, not actually turn on or use the blinkers, and not harass other road users - you should be safe. But of course, YMMV and ideally, you can make your own rides stand out in many other ways other than looking like a Traffic Police (TP) officer.
At least with the new fleet of BMW R1250RT bikes that our TPs are using now, it's going to cost a pretty penny to emulate them so we'll probably see less of those around.
What do you think? Why do these riders make their bikes out to look like TP bikes? To avoid traffic and encourage people to move over or just a personal interest?

Let us know what you think in the comments section below!