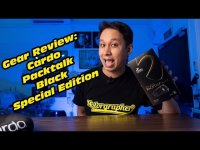 The Cardo Packtalk BLACK is the company's flagship intercom, boasting Mesh communication, 45mm JBL speakers, connectivity to your phone for calls, GPS and music, an FM radio and of course rider to pillion and rider to rider connectivity.
Cardo is distributed exclusively in Singapore by Chong Aik International Pte Ltd

45 Desker Road, Singapore 209576
Phone: (+65) 6294 2532/1
Open on: Mon-Fri: 09:00am-06:00pm / Sat: 09:00am-05:00pm
The slightly more affordable Cardo Packtalk Bold has all the same features, but has 40mm JBL-branded speakers instead. Other than that, the Bold has silver highlights and a two-year warranty while the Black is, well, black and has a three-year warranty.
Barry Seah (@Motorgrapher) test both units to find out what the differences are, whether they make for the best all-in-one bike communications system and if paying the extra for the Packtalk Black is worth it.
PURCHASE the Cardo Packtalk BLACK (Single) on Chong Aik's website here:
https://www.chongaik.com.sg/home/444-cardo-intercom-system-packtalk-black-single-sound-by-jbl.html
Check out his video below: