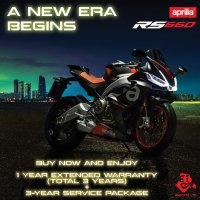 Earlier in the year, we did an article on the launch of the all new 2021 Aprilia RS660 that was soon to arrive on our shores. It has been one of the most anticipated sports bike launch out of the Italian manufacturer Aprilia to come out for quite some item.
You can read our previous review of the Aprilia RS660 here:
As we expected, the direct competitor to the Yamaha R6 was launched to much fanfare and its performance did not disappoint. The Aprilia RS660 is now available from Aprilia's distributor in Singapore - Mah Pte Ltd and can be yours for a machine price of S$28,000 - which does seems like a bargain after you consider what comes stock on the bike and also its latest suite of technological improvements.
Mah Pte Ltd is making the deal even sweeter now however, by throwing in a extended warranty and servicing package if you purchase the 2021 Aprilia RS660 now as part of their launch promotion (And this is a testament to their belief in the build quality and reliability of the Aprilia brand!):
Top up S$1,000 and enjoy
3 years unlimited mileage warranty
3 years service package (oil, oil filter, air filter, spark plugs and valve clearance!)
To take advantage of this deal, head over to Mah Pte Ltd today to look at their range of Aprilia sports bike available and you might just find yourself riding home on a new Italian stallion!

Mah Pte Ltd
www.mah.com.sg
Address: 1179 Serangoon Rd, Singapore 328232
Phone: 6295 6393